Blog
Renault Megane Features
Renault Megane Features
---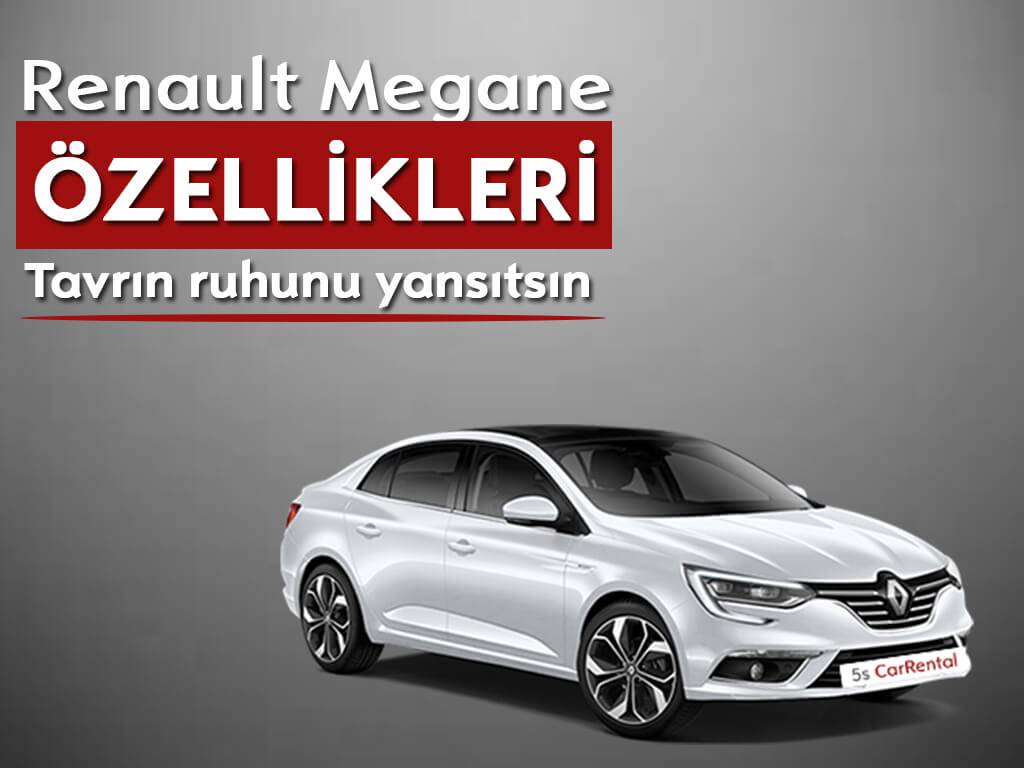 Renault Megane Features
One of the indispensable models of the Renault brand, Megane has constantly renewed itself over time. Thanks to the technical, engine and comfort features of the new Megans, they are frequently preferred by Samsun car rental companies.
< /p>
 Renault Megane models have many features. The most prominent features are as follows.
Renault Megane Design Features
He takes a very confident stance. The robust and dynamic structure of the model is emphasized by the chrome lines.
 The headlights used in the design of Megan are designed in a C-shape to create a 3D effect and add depth to the design. The model, which has become much more remarkable with its LED daytime running lights, is therefore preferred by Samsun car rental companies.
 Continuing the perfection of its design on the back, Megane has put its signature on the design with the dark red horizontal red lights it uses.
Renault Megane's Technological Features
 Megane, which has a system that allows the vehicle to take full control owes its feature to the R-LINK 2 System, which has an 8.7 inch screen. Thanks to this system, you can easily connect your smartphones to the vehicle, and which cable is not used around this connection. In this system, where smart phones are connected to the vehicle with Bluetooth technology, you can make all controls, including calls, from the panel.
Samsun car rental< Preferred by /a> companies, Megane has extremely innovative technologies. With the multi-sense feature among these technologies, you can choose the driving mode that suits your mood. Offering a different user experience every day with this feature, Megane always deserves to be preferred.
Among Megan's other technological features, the Color Head up Display increases the focus on the road. Equipped with Arkamys Sound system, Megans offer acoustic experience to their users.
 Thanks to automatically opening roof windows, Megans Samsun car rental They are preferred by companies. Megans, which offer a wider and more spacious travel experience with this feature, are receiving great attention from the customers.
Another technological feature of Megans is that they know their users remotely. Turning on the headlights and taillights when the drivers approach the vehicle, as well as opening the side mirrors of the interior lighting provide both pleasure and convenience to the drivers.
Another Comfort and technological feature preferred by Samsun car rental companies is the hands-free mode. is happening. Thanks to this feature, the doors of the vehicles can be opened and locked automatically. The same feature ensures that the tailgate can be thrown untouched. It is enough for users to show their feet under the rear bumper.
 Safety with Renault Megan
 In addition to its many technological features, Renault Megane' They have many equipment to ensure the safety of drivers and everyone in traffic. Because of these security features they have, they are preferred by Samsun car rental companies.
Lane Tracking System
 A safer driving experience is experienced thanks to the lane tracking system, which is activated when drivers change lanes without signaling. This system, which is activated when drivers change lanes unintentionally, warns the drivers by giving a warning on the front panel.
 Distance Protection System
Adaptive Equipped with Cruise Control System, this model increases safety. Thanks to this system, the following distance is always maintained with the vehicle in front, while speed limits are not opened.
 Another safety feature of Megans, which is preferred by Samsun car rental companies, is the emergency automatic braking system. Thanks to this system, drivers who are faced with any danger can do something automatically. This feature, which is used with ABS/ESC braking systems, reduces stopping distances.
Hands Free Parking System
 Parking is very easy thanks to this system, which automatically measures the distance to be parked. Another feature of this system is that it determines the maneuvers required for parking.
 Renault Megane Engine Features
 New technologies in engine designs Renault Megane provides fuel savings. Another feature found in their engines is the reduction of carbon dioxide emissions. The main feature of the engines is that while keeping all these features alive, on the other hand, they do not lose anything from their performance.
Renault Megane diesel engines, which are preferred by Samsun car rental companies, confront us as a full efficiency engine. comes out. It provides a flexible and enjoyable driving experience thanks to the automatic transmissions designed as dual clutch with 7 forward gears.
The automatic transmission option of Renault Megane models provides many advantages to its users. Among the advantageous, the priority is the ease of use. Another advantage is fuel economy. A stronger performance is provided by automatic gears with 6 or 7 forward gears depending on the selected engine. Because of these features of the gearbox, it is frequently preferred by Samsun car rental companies.
 All the features mentioned so far are common features between Renault Megane models. Other features we will mention below are the additional features preferred by Samsun car rental companies.
Additional Features of Renault Megane Models
 Additional Features of Safety and Driving
p>
 The balance system takes the first place among the two safety features used in Renault Megane models. Thanks to this system, vehicles can maintain their balance in all road conditions and sudden maneuvers and provide full control.
 For Megane users, other features are the front side and curtain airbags. Thanks to these airbags, passengers and drivers are under maximum safety in the event of an accident.
 With Hill Start Assist, which is among the additional safety measures, drivers can start and drive their cars without slipping even on the steepest slopes.
 Another safety and driving feature in Megane models is the fatigue detection feature. Thanks to this feature, if they show certain signs of constant fatigue, they are warned by the system.
Drivers and Passengers are warned by the system. Additional Features Belonging to Comfort
 Due to these features belonging to the Renault Megane model, it is frequently preferred by car rental companies. Rain Sensors take the first place among the features of Megane. Automatically illuminated headlights provide drivers with a pleasant driving experience. Thanks to the Electric Parking Brake, which is included in its additional features, the vehicles are ensured to stop safely.
Another of Megane's features also ensures the safety of drivers. In particular, this is the automatically dimming interior rear view mirror. Megane, which solved the problem of the rear view mirror shining especially during night driving, by dimming it, made it safer in night journeys. In addition, due to the decrease in the writing coming from the rear view mirrors, it provides less fatigue to the drivers.
 Electronic folding exterior mirrors also provide comfort to the drivers. Thanks to the leather steering wheel they have on some models, the driver has a pleasant driving experience. In addition, some models have manually adjustable lumbar supports. In this way, drivers can drive for longer periods without getting tired. Due to these features, Renault Megane is frequently preferred by Samsun car rental companies.